"Hi, I'm Brian."
"After many miles sitting in the driver's seat of a truck, and many years engineering home mattresses for the big boys, I knew there had to be something better than sleeping on the uncomfortable truck options on the market. Many cups of coffee later, The Big Rig Mattress was born!"
Brian Mathis, Founder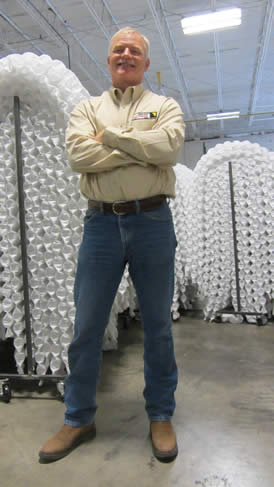 We had to make the unit durable enough to handle a tough industry, and yet still provide the support and comfort a driver needs. Pocketed Spring Technology proved to be the best solution.
AT HOME IN THE SOUTH
Our manufacturing facility is located in Dalton, Georgia, about an hour north of Atlanta. Life moves a little slower here and we like that! But The Big Rig Mattress boxes waste little time flying out the door to hit the road.
FACTORY DIRECT PRICES
One of our biggest challenges was getting the product to the driver. How could we get our mattress into a BOX? This required some thought … trial and error … but in the end, we did it! The result was a superb product made up of a luxury quilted cover with a pocketed spring core zipped inside. This unique design was able to be compressed and shipped in a box via UPS. Of course, direct shipping cuts out the middle man, which allows us to bring high quality mattresses to drivers at affordable, factory-direct prices.
SUCCESS AT LAST
We have been working hard at it now for the last six years and we believe we offer the very best truck mattress money can buy. And our customers think so too. We get 100% positive feedback and often hear "finally, this is the last truck mattress I'll ever have to buy." Be safe and rested.
MADE 100% IN THE USA USING QUALITY MATERIALS
Plush Quilted Topper
REMOVABLE COVER ALLOWS FOR EASY CLEANING
The Big Rig Mattress has been designed for the long haul. Being able to clean its cover is healthy and makes it the last truck mattress you will ever buy.